"Old Dawgs of Cleveland Avenue" Alumni Association
REUNION PHOTOS:

Old Dawgs Reunion - 2008 <- Click Here
Old Dawgs Reunion - 2006 <- Click Here
Old Dawgs Reunion - 2005 <- Click Here
Old Dawgs Reunion - 2004 <- Click Here
Old Dawgs Reunion - 2003 <- Click Here
Old Dawgs Reunion - 2002 <- Click Here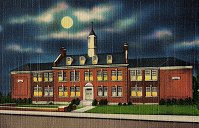 The original Martinsville High School on Cleveland Avenue opened in 1939 and was Alma Mater to thousands of Martinsville-area citizens until a new school was built in the late 1960's. The last class to graduate from MHS at Cleveland Avenue was in 1968.
An alumni association, "Old Dawgs of Cleveland Avenue", was established in 2002 with the primary goal of keeping people in touch. Lots of Old Dawgs live far away from the area now and some of their classes never have reunions. The "Old Dawgs of Cleveland Avenue" helps many people to see not only their own classmates, but other friends from days gone by. It also provides an annual opportunity for families to unite, as many siblings attended Cleveland Avenue at various times throughout the years.
All who attended Cleveland Avenue when it was Martinsville High School are invited to join the association and to attend future reunions. A $10.00 annual membership fee will support the mailing of a semi-annual newsletter and other activities that can benefit the Community.
The 7th Old Dawgs Reunion was held in October, 2008. Visit mavahi.com often and learn details of future Old Dawgs and individual class reunions.